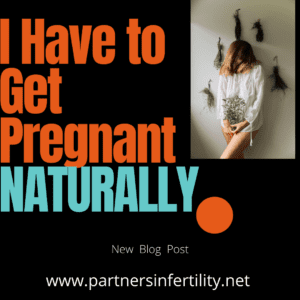 "I have to get pregnant naturally. I just have to. This just HAS to happen."
Do you tell yourself that getting pregnant absolutely has to be natural? Do you scream at yourself that your body MUST work. You may berate yourself in frustration that this is what a woman is put on the earth to do. This pressure-filled compulsory requirement is usually filled with worry and humiliation. How does this pressure drive you? If you are a Type A (Confession: I am), you are looking for a solution to a problem, and you are a good problem solver. Unlike school or working hard at a job, working harder at trying to get pregnancy pregnant naturally usually just leaves you feeling like crap.
I'm going to push you here. Why does getting pregnant have to be "natural"? Please explain this to me and to yourself. This is not a competition with other people, unless it is. Friends, sisters, work colleagues, mothers seem to get pregnant easily, therefore you just know that you can find the magic ticket that will send you naturally to conception and pregnancy.  Honestly, I think that pressure-filled quest is driven by internalized shame. You think that you are doing something wrong. Maybe you think that your partner is doing something wrong. What if your eggs, sperm, fallopian tubes, or uterus just need some help?
Diabetes is natural and a medical condition and we treat it with medical intervention. 
Why not think about infertility in a similar way?
In over 20 years in practice, I have watched people do many "natural" things FOR YEARS without success including:
Acupuncture                                      Chinese herbs
Eat organic                                          Eat gluten free
Eat sugar free                                    Quit a job
Reduce stress                                    Naturopathic herbs
Do yoga                                                Stop drinking coffee
Work with a fertility coach           Clinical hypnosis
Think positive!!!!!                            **Stop smoking cigarettes
**Smoking is documented to mess up your reproductive system. Quitting still won't guarantee that you will get pregnant.
This list could go on for days. Many of the things on this list are good things. Many of the women I see have been doing many of these things for several years and THEY..ARE..EXHAUSTED. They have been working and reworking the problem with no pregnancy. All the while being furious with themselves. Reducing stress feels better generally but it has nothing to do with infertility, especially if your AMH level or sperm parameters are compromised.
There are certainly pros and cons to insisting that getting pregnant be natural.
It costs less than going to a fertility clinic. Except that's probably not the case, because you have been spending lots of money on all kinds of things and you are still not pregnant.
One of the thousands of things you are doing might actually work. For example, if you have PCOS and you eat gluten free or sugar free, you might budge your cycle back into its correct rhythm. Acupuncture helps in many ways and the best acupuncturists support the journey in conjunction with a fertility treatment team. How long will you continue to do these good things before you say to yourself, ummmm, I'm still not pregnant?
It might fit best with your religious beliefs. Got it. I support your being in alignment with God and your faith. Please promise me, though, that you will not take on the neighboring belief that God is punishing you. Please remember that this is a medical problem. Are you ready to look at adoption? It is a beautiful path to parenting, too.
There are definite cons to pushing and pressuring yourself to get pregnant naturally.
Reality is not fitting with your narrative. You are tying yourself into a relentless pretzel every day with no relief, answers, or the outcome of pregnancy. Logic errors are very uncomfortable and often lead to a spike in anxiety and depression.
You are running out of money, so much so you might not have enough money to pursue the fertility treatment you don't want or to pursue adoption. You will have boxed yourself in. You might blame your partner. You might blame God. I am going with the biggest blamer of all, yourself.
You realize that years have gone by, years in which you could already be parenting. This is the very sad regret that I hear from many clients. I don't want this to be you.
Here's a perspective that may be difficult to acknowledge: while you are threading a needle in the dark looking for a way to do things naturally, what you or your partner might really need is intervention with a fertility specialist. Ouch. I am sorry to be so blunt. I don't mean to hurt you. I mean to help you start parenting as quickly as possible. Sometimes, it turns out that there is a mechanical problem that cannot be seen or diagnosed. Women often end up conceiving when they take medication, or do IVF, or use assisted reproduction (like donor eggs, donor sperm, donor embryos, or gestational surrogacy). Who likes this? Almost no one before they get pregnant. Almost everyone once they are on the way to parenting.
Here's a perspective that may be difficult to acknowledge: while you are threading a needle in the dark looking for a way to do things naturally, what you or your partner might really need is intervention with a fertility specialist.
You deserve to be a parent. Here is my loving challenge to you.  Ask yourself how much more time you want to say no to a consultation at a fertility clinic. If you have a partner, ask your beautiful partner to make a decision with you that you can live with. Could treatment get you to parenting? What are you willing to do to start parenting?  You know that I support you, no matter what.