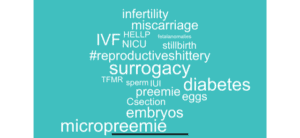 At partners (in)fertility, we see a lot of good people dealing with reproductive shittery: fertility challenges, fertility treatment, pregnancy losses of all kinds, preeclampsia, HELLP syndrome, hyperemesis, prematurity, pregnancy bedrest, gestational diabetes, fetal anomalies, termination for medical reasons (TFMR), traumatic delivery, and so on, and so on.
And none of us expects these problems.
And almost all of us blame ourselves for them.
Because we are told one story only:
sperm and eggs are plentiful
 getting pregnant is a breeze whenever we are ready to try
being pregnant is easy, fun, and beautiful
birth is easy and a pleasure
having a new baby is easy and fun
That is somebody's story.
It's not ours and, if you are reading this blog post, it is probably not yours either. That's why I created #reproductiveshittery so we can talk about all of it.
You have nothing to be ashamed of.
You did not cause anything.
We know that you did and are doing your best.
At partners (in)fertility, we support you and are here to help you feel less isolated and to help you heal. Reach out to us and others. Tell your story. You are a good person in a loving community.